Defender - Mark Snodden - Born: 30th July 1967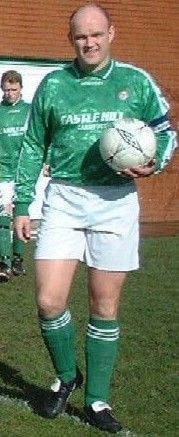 Mark is a natural inspiration to those around him and has made a hobby of collecting trophy after trophy with Dundela. If things are not going as planned on the 'Park', Mark is there, willing on his colleagues He has scored many goals for the Duns, including quite a few vital ones.
---
Personal Profile

Q How many years have you been with Dundela FC.?
A 13 years with Dundela Football Club.

Q Have you been with any other clubs?
A I have played for East Belfast & Carrick Rangers.

Q Who would you say are the best players you have played alongside?
A Stephen Hanvey & Billy Caskey

Q Who has been the best player, as an opponent?
A Paul Byrne (ex-Glasgow Celtic)

Q Did you have a childhood football hero?
A Gazza - Paul Gascoigne

Q Which team did you support as a child?
A Glentoran FC, Glasgow Rangers & Liverpool.

Q Any other remarks you would like to add?
A Nothing I can think of.

---
Personal Honours Achieved

6 Junior International caps
5 Irish League Second Division Championship medals
4 Intermediate Cup Winners' medals
2 County Antrim FA Steel & Sons Cup Winners' medals
2 Smirnoff Cup Winners' medals
3 Northern Ireland Amateur League Representative Caps

---