Midfielder - Bryan McCarroll - Born: 28th December 1966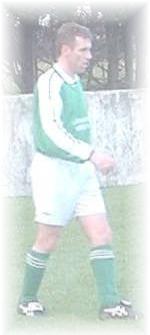 Bryan is another Northern Irish Junior International. Excellent with free-kicks and set-pieces anywhere in the opponents half. An exciting team player, always reading the game well and creating chances for others. He has the ability to turn a game and has scored many late winners for Dundela. Bryan has been a crucial part of the Duns set-up for ten years now.

---
Personal Profile

Q How many years have you been with Dundela FC.?
A 10 years with Dundela Football Club.

Q Have you been with any other clubs?
A I have played for 79th Old Boys and Ards FC.

Q Who would you say is the best player you have played alongside?
A Billy Caskey

Q Who has been the best player, as an opponent?
A Too many to mention

Q Did you have any childhood football heroes?
A Yes, Kenny Dalglish, George Best & Diego Maradona

Q Which teams did you support as a child?
A Linfield FC & Leeds United.

Q Any other remarks you would like to add?
A Nothing I can think of.

---
Personal Honours Achieved

3 Junior International caps
3 Irish League Second Division Championship medals
4 Intermediate Cup Winners' medals
1 County Antrim FA Steel & Sons Cup Winners' medal
1 Smirnoff Cup Winners' medal

---