Defender - Mark Lennox - Born: 10th February 1971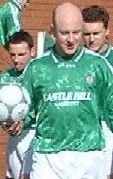 Mark is a clever defensive player who is good on and off the ball. Mark has won a lot of honours in the game. He has an excellent positional sense on the pitch and is one of the most consistent players in the 2nd Division. His experience with senior clubs Glentoran, Bangor & Linfield can be seen in his play. When he was with Glentoran he was included in the squad of 20 which played French club Marseilles in a European Cup tie

---
Personal Profile

Q How many years have you been with Dundela FC.?
A 8 years with Dundela Football Club.

Q Have you been with any other clubs?
A Yes, Glentoran, Bangor & Linfield.

Q Who would you say is the best player you have played alongside?
A Billy Caskey.

Q Who has been the best player, as an opponent?
A Sorry, there are just too many to mention.

Q Did you have a childhood football hero?
A Kenny Dalglish, Liverpool & Scotland.

Q Which team did you support as a child?
A Liverpool.

Q Any other remarks you would like to add?
A A big thank you to my Mum and Dad for being there when it mattered, and for being my biggest fans.

---
Personal Honours Achieved

4 Junior International caps
3 Irish League Second Division Championship medals
3 Intermediate Cup Winners' medals
1 County Antrim FA Steel & Sons Cup Winners' medal
1 George Wilson Cup Winners' medal
1 Smirnoff Cup Winners' medal

---