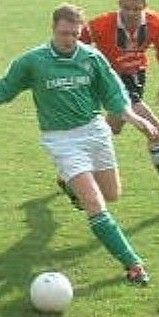 Striker - Glenn Dougherty - Born:

Glenn joined us during pre-season from H & W Welders.
He is the brother of our midfield star Craig.
Glenn scored our only pre-season hat trick against Killyleagh YC.
A useful acquisition in any squad,
hopefully his stay with the Duns' will be a long and fruitful one.
---
Personal Profile

Q How many years have you been with Dundela FC.?
A This is my first season at Wilgar.

Q Have you played for any other clubs?
A Yes, Harland & Wolff Welders.

Q Who would you say is the best player you have played alongside?
A ...

Q Who has been the best player, as an opponent?
A ...

Q Did you have a childhood football hero?
A ...

Q Which team did you support as a child?
A ...

Q Any other remarks you would like to add?
A ...

---
Personal Honours Achieved

1 Intermediate Cup Winners' medal
(with H & W Welders, 2001 - 02)

---