Welcome Friends Old And New
Today's date is:

Dundela FC Formed 1895
Dundela Football Club
10 Times Champions
Dundela FC play at Wilgar Park, known locally as
'The Hen Run'
Our locality is in the 'Strandtown' district of East Belfast, Northern Ireland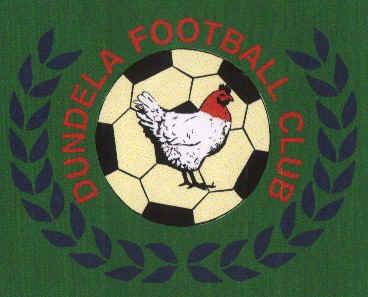 Official Crest Of Dundela Football Club
Irish Cup Winners
1954 - 55
Dundela FC have a long and illustrious history We have a proud record of 'Giantkilling' culminating in our Irish Cup win of the 1950's over top Irish league opposition in the shape of Glenavon FC

Ballinamallard... 1 v 0... Dundela
12th October 2002

The long trek to Fermanagh proved a difficult one for the Duns' today.
Read the match report for a more in-depth account.

Happy 1st Birthday
08th October 2002

The Dundela FC website is celebrating it's 1st birthday today.
It has been a pleasure working on and maintaining the site during this 1st year, albeit at times frustrating as I sometimes searched in vain for information regarding the club
as a whole, and it's colurful history.
From the viewing of the web site, well I never imagined this site would be viewed
by almost 9,000 first time viewers in the 1st year of it's existence.
Not bad at all, for an Irish league 2nd division side?
If you want to get some fun while betting online, you can always get the best sports betting sites available and choose your bonus to start with.



Viewpoint - 06th October 2002

The picture link below opens in a new window, so please close the window after viewing to return here
( Northern Ireland Junior International Squad 2002, including four Dundela FC players )

From a supporters viewpoint it is great to see the Dundela squad, including the new players, coming together to be a force to be reckoned with for the remainder of the season.
We understand it takes time for any new boys to fit in and we can now see that happening on the park.
Our early exit from the Steel & Sons Cup was an embarrassment to us as supporters of the club to say the least, but we realise that no team can play to their best in every game throughout the season and that there will be slight hiccups along the way.

Our league status has improved vastly over the past month. Climbing ten places in the league table, from 13th up to 3rd.
This was achieved during the loss of several key players, one of whom was our Captain, Craig Dougherty.
Taking over that mantle was Gary Walker, who has played a marvellous part, both as Captain, and as an individual player during Craig's absence.

Bryan McCarroll has returned in recent games and is proving his worth as always.
Paul Davies has slotted into the goalscoring predator role left vacant by the departure of Ian Coulter to Bangor during the summer break.
Paul has found the backs of our opponents' nets 8 times from 10 games.
Hopefully he can keep up this trend throughout the season.

As we have said already, four of our players will be missing for our next 2 league games due to junior international duty, but just as importantly, so too is our management team.
We have to ask, is this a wise decision? Could these league matches not have been postponed?
We realise the players involved will thoroughly enjoy the experience of a bigger footballing stage, but it has come at a critical time for us domestically.
Let us hope we can still maintain our record of being unbeaten in our last seven league games.

The picture link below opens in a new window, so please close the window after viewing to return here
( Northern Ireland Junior International Squad 2002, including four Dundela FC players )